Students assess animal care with a keen eye
[ad_1]
Even when my competition results weren't always where I wanted them to be, I really appreciated the opportunity to participate in the evaluation of dairy cattle. I started judging with my local 4-H and FFA teams, then moved on to college judging at the University of Wisconsin-Madison, competing in several national competitions.
Dairy and livestock judging competitions have been around for generations. In fact, the first national 4-H and college dairy judging competitions were held 100 years ago. Over the years, contest participants learned the intricacies of grading dairy animals and then applied that knowledge during the contest. Individuals and teams are ranked based on how they place classes and present their reasons.
The Collegiate Dairy Assessment Competition has been around for almost as long, and more recently a competition focused on troubleshooting dairy herds and facilities, called the Dairy Challenge, has been established.
I recently heard about another interesting contest that started over the past two decades. In 2002, Michigan State University held the first Animal Welfare Judging and Assessment Competition. Four teams participated that year. In 2014, 28 teams from across North America participated. When the competition was held virtually for the first time in 2020, 250 participants from 32 universities in seven countries took part.
"The competition was born out of the desire to integrate animal welfare into animal science curricula, to arouse student interest and foster healthy competition," said Sharon Kuca at the annual symposium of the Dairy Cattle Welfare Council. Kuca is Deputy Director of the Animal Welfare Division of the American Veterinary Medical Association.
The name of the competition has changed slightly over time, dropping the word "judge" from the title. Even though the name is now Animal Welfare Assessment Contest, Kuca said many still refer to the event by the acronym AWJAC.
Teams of undergraduate, graduate or veterinary students can participate in the two-day competition. Students apply scientific methods and ethical standards to assess animal welfare in realistic situations. Participants evaluate multiple virtual scenarios and a live / on-site scenario to determine levels of animal welfare observed in a variety of settings, including agricultural, companion, biomedical and human assistants. For example, this year's competition will include evaluations of a boar farm, as well as cat and psittacine (parrot) scenarios.
Much like the Dairy Challenge model, participants present their findings to veterinary and animal welfare experts who serve as judges. Prizes are given to the highest ranked individuals and teams in each division
Students can sharpen their critical thinking, reasoning, and communication skills, and whether they are successful or not, there is a lot to be gained for every student.
"It's an opportunity to connect and network with animal welfare groups across North America and beyond," Kuca said.
She shared that post-competition evaluations carried out by participants between 2012 and 2019 showed very favorable responses. Of these students, 99% agreed it was a valuable experience, 98% felt they had improved their knowledge of animal welfare, and 98% would recommend participation to their peers.
As animal welfare continues to gain more and more attention both within and outside the agricultural industry, this competition may provide students with the opportunity to gain skills in a field. very relevant to animal and veterinary sciences. Any university or veterinary college can constitute a team for the competition. For more information, visit https://www.awjac.org.
---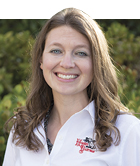 Abby bauer
The author is the senior associate editor and covers animal health, dairy housing and equipment, and nutrient management. She grew up on a dairy farm near Plymouth, Wisconsin, and was previously an agricultural extension officer at the University of Wisconsin. She received an MA from North Carolina State University and a BA from the University of Wisconsin-Madison.
[ad_2]