Detroit Animal Care celebrates opening day with free adoptions through Monday 4/11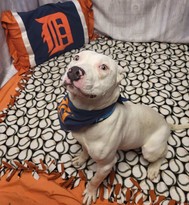 (EDITOR'S NOTE: Mark Kumpf, Director of Animal Care is available for media interviews throughout the day)
Adoption and license fees are waived until 4/11, all animals are neutered, microchipped and come with free goody bags
Detroit Animal Care celebrates opening day with free adoptions for all cats and dogs. All adoption and license fees are waived today until Monday, April 11e. All animals are fully vaccinated, microchipped and sterilized. Each animal comes with a bag of treats.
"We're celebrating opening day and kitten season," said Mark Kumpf, Director of Animal Care. "April is traditionally the time when we see the greatest consumption of kittens. We got a state-of-the-art incubator to give our youngest kittens a good chance of surviving in a shelter and give our team the time to find a foster family who would bottle feed. When given the opportunity to save more lives, we always choose to do so. Kumpf reported that DAC is already taking in newborn kittens (eyes closed , a few days old).
Lists of pets available to adopt and foster are updated daily throughout the week on Detroit Health Department's Instagram https://www.instagram.com/dethealth/ and facebook page https://www.facebook.com/DetHealth.
Detroiters are always welcome to visit Detroit Animal Care, which is open to the public for adoptions daily from 10:30 a.m. to 3:30 p.m. Detroit Animal Care is located at 7401 Chrysler Drive, Detroit.