CMPD Animal Care & Control will continue the "Bless Your Heart" pilot program for companion animals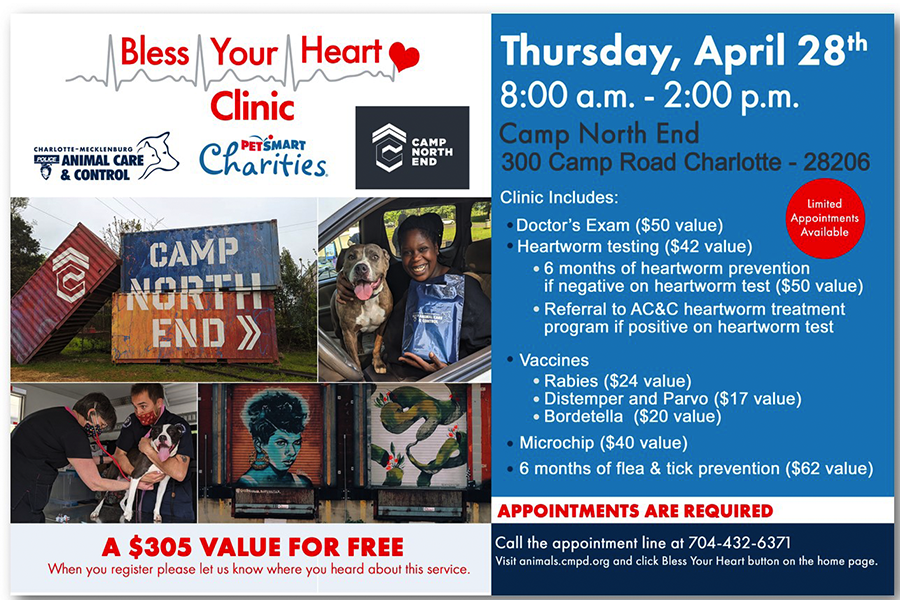 CHARLOTTE, NC (News Release) – Due to cost and other barriers, pets in nearly 50 million underresourced communities across the United States lack access to the most basic veterinary care. , including prevention and sterilization services, vaccinations, dental care and others. medical care.
In the USA, 70 percent of homes include pets. As research continues to reveal the benefits of the human-pet bond, a movement is underway to connect pet parents to the care their pets need to keep them and their families healthy. With a $51,000 grant from PetSmart CharitiesCharlotte-Mecklenburg Police Department Animal Care & Control (AC&C) will provide ongoing support to pets in need of these veterinary services by hosting monthly Bless Your Heart community clinics in North camp in Charlotte.
"These clinics are essential to help educate pet owners about heartworm disease which is very prevalent in our area. Canine heartworm disease is a life-threatening disease that isn't always visible on the outside, but it can be treated and easily prevented. The goal of the clinic is to be able to provide heartworm testing and preventative or treatment for family dogs that otherwise would not have access to veterinary care. said AC&C director Dr. Josh Fisher.
At the clinic, dogs will receive a general wellness exam and heartworm test with a veterinarian, as well as CORE vaccines and a microchip that links them to their owners. Heartworm testing will provide results in just minutes, then the clinic can provide six months of heartworm and flea prevention medication or help with a treatment plan.
"Building on Camp North End's holistic approach to health and wellness, we are pleased to host the Bless Your Heart Clinics, which offer holistic support to pet owners. Dogs are an integral part of their family and this program is essential to keeping them healthy," said Varian Shrum, Community Manager at Camp North End.
This is a needs-based clinic and spaces are limited. Appointments are mandatory and can be booked online here: online form.